Based on the classic novel, The Secret Garden is a compelling tale of forgiveness and renewal, with haunting melodies and a glorious score.
More about the show
From Tony Award and Pulitzer Prize winner Marsha Norman and Grammy Award®-winning composer Lucy Simon, The Secret Garden  is a story of faith, family, and the power of dreams. Follow young, orphaned Mary Lennox as she's sent to live with her reclusive uncle on his haunted country estate. Accompanied by a glorious and hauntingly beautiful score, Mary's curiosity and the help of unlikely companions send her on a quest to untangle the pieces of her family's past and, most importantly—discover herself along the way. Nominated for 6 TONY Awards and mesmerizing for all ages!
A Kansas City professional premiere.
George Harter pre-Show talks every Thursday & Sunday.
Sponsored By Theater League
directed by
JESSALYN KINCAID
music director
TY TUTTLE
scenic designer
YI-CHEIN LEE
costume designer
DANIELLA TOSCANO
lighting designer
SHELBI ARNDT
sound designer
JON ROBERTSON
asst. director
EMILY SHACKELFORD
stage manager
LACEY WILLIS
Read Bio
Lauren is excited to be back at MTH! Local: Fun Home, Last Days of Summer, Sweeney Todd: The Demon Barber of Fleet Street, A Christmas Carol, Sunday in the Park with George, Into the Woods (KCREP); Nine, Violet, A Little Night Music (Spinning Tree Theatre); First Date, Cinderella, Sound of Music (Starlight Theatre); Where the Wild Things Are, Shrek (The Coterie); Grey Gardens (Unicorn Theatre); Ruby Room, Ragtime, Guys and Dolls, The Music Man, She Loves Me (Musical Theatre Heritage); Life Could Be A Dream, 25th Annual Putnam County Spelling Bee, No Way to Treat a Lady, It's A Wonderful Life: A Radio Play (American Heartland Theatre); Judy Barbra Liza and Blues in the Night (Quality Hill Playhouse); A Man of No Importance (Metropolitan Ensemble Theatre); Passion and Everlasting Universe: World Premiere (Civic Opera KC); Great Duets, (Chestnut Fine Arts Theatre). Regional: Arrow Rock Lyceum and Seagle Music Colony. Education: BM and MM Voice Performance from UMKC Conservatory of Music. Teaching Certificate K-12 Vocal Music – UCM. Lauren also owns her own voice studio, and does commercial, film, and voiceover work. www.laurenbraton.com
Read Bio
PHIL FIORINI – Fly By Night, Violet, and Hands on a Hardbody (Ensemble Theatre of Cincinnati), Sherwood, Chicago, Addams Family Muscial, (New Theatre Restaurant) Finian's Rainbow (Spinning Tree), La Cage Aux Folles (Kansas Repertory Theatre) The Lion King (National Broadway Tour)
Read Bio
VAUGHAN W HARRISON – KANSAS CITY UNITED CHURCH OF CHRIST: The Kansas City Chamber Choir (Creative Director / Founder). BLACKBOX THEATER: Spilled Milk (Bobbie). FISHTANK THEATER: Every 28 Hours (Ensemble). METROPOLITAN ENSEMBLE THEATER: Parade (Jim Conley).
Read Bio
Maggie Hutchison (MARTHA, she/her) is thrilled to be making her MTH debut in this beautiful show & role near and dear to her heart. Some of Maggie's favorite Kansas City credits include Karen in The Spongebob Musical TYA (The Coterie) and Trina in Falsettos (Faust Theatre). She spent last summer performing in Houston, TX in The Sound of Music (Maria u/s, A.D. Players) and enjoyed several roles during her Musical Theatre education at Belmont University where she used the song "Hold On" as her audition piece for practically everything. Maggie loves her over-sized family, her cat, and all the teachers who have encouraged her throughout her life.
Read Bio
Lindsay James is excited to be back at MTH! Originally from Arizona, Lindsay moved to KC to earn a master's degree in vocal performance from UMKC. Past MTH credits include: Sunday in the Park with George (Nurse), Big River (Miss
Watson), and Into the Woods (Jack's mother). Lindsay has performed locally with Stonelion puppet theater, the Chestnut, and the Lyric Opera of Kansas City. Much love and thanks to the Lord, Reuben, and my boys.
Read Bio
Jordan is extremely grateful and excited to be making his MTH debut with The Secret Garden. This show has such fond memories for him, as he began his theatrical career playing Colin back in 2005 at Great Plains Theatre. Jordan recently appeared on Kansas City stages in The Inheritance at Unicorn Theatre and The White Rose at The Coterie Theatre. After earning his degree in musical theatre at Millikin University, he decided to pursue a Masters in education, and he now teaches drama for Olathe Public Schools (shoutout to any of his students or coworkers in the audience!).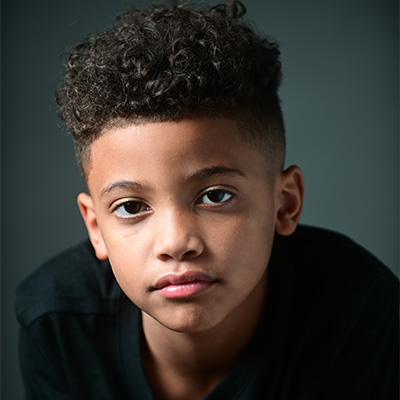 Read Bio
KCRep: Fun Home (John Bechdel). Christmas Carol (Tiny Tim) The Coterie: Only One Day A Year (Frank James) Film: They Wait in the Dark (Adrian, SmartMouth Films, an award-winning feature film)
Read Bio
LAINEY MCMANAMY (Mary Lennox) Professional Credits: KC REP – A Christmas Carol (Tiny Tim '18, '19, & Want '22), Cat on a Hot Tin Roof (Trixie). Other recent Credits: TTIP – School of Rock (Shonelle), MTKC – Shrek (Young Fiona), 30th Anniversary & Rising Star Review (Soloist). Lainey is 12 years old, in 6th grade and loves art, baking, singing & playing piano, soccer & basketball. Lainey would like to thank MTH for this amazing opportunity & her family for their love & support. Enjoy the show!
Read Bio
Nancy is happy to be back at MTH where you might have seen her in Music Man, Showboat, Oliver or Big River. She has been in the performing business for over 35 years. She has been on the "boards" at Quality Hill Playhouse, Starlight Theatre, MET, American Heartland, FishTank, Bell Road Barn, Spinning Tree and many others. Enjoy this rarely produced, beautiful musical!
Read Bio
This production marks Tim's first appearance in an MTH mainstage musical in more than a decade. He last appeared at MTH assuming the title role in Sunday In The Park With George. Last season he made his principal debut in Lyric Opera of Kansas City's The (R)evolution of Steve Jobs. As a performer, Tim has appeared on nearly every professional stage in Kansas City, most recently at KC Rep in Sweeney Todd and the world premiers The Last Days of Summer and Between The Lines. Select credits outside of Kansas City include the Off Broadway and NYC premier of Lucky Duck at the New Victory Theatre, The Phantom of The Opera at Riverside Civic Light Opera, as well as the National Touring production of Beauty and the Beast. But that was a long time ago… His all time favorite role is daddy to Bella Maria and Sophia Napoli, to whom he dedicates this and every performance.
Read Bio
Bradley J. Thomas (Dr. Neville Craven) . MTH: Man of La Mancha, Company, How To Succeed International: Joseph and the Amazing Technicolor Dreamcoat (Great Britian), Ragtime (Germany). Regional:Sweeney Todd (Vashon Rep and Island Time Productions) The Exonerated (Vashon Rep) Man of La Mancha (Sierra Rep). Footloose, Forever Plaid, The Guys (Longview Stageworks), Lakewood Center, Portland Center Stage, Sylvia's Theatre, Embers Stages. Local: A Christmas Carol, Sweeney Todd, Mermaids, Carousel (KCREP) Tomorow Inshalla, Pontypool, Chainsaw: The Musical, Titus Andronicus, Carousel, The Death of Cupid (The Living Room); Ghosts of Lote Bravo (Unicorn),The Fishtank, Theatre for Young America, Irish Rep, The Black Rep, KC Fringe, Shirley White Theatre, Padgett, The Black Box, Thin Aire Theatrics. UPCOMING: Albert Blossom in Dr. Dolittle (Coterie Theatre)
Read Bio
Sheriece is a vocalist, teacher, and development manager in Kansas City, Missouri. Her past credits include Albert Herring (Nancy), Dido and Aeneas (Sorceress), Candide (Paquette), Suor Angelica (Monitor), Les Huguenots (Valentina), Trial by Jury (Usher), and Big River (Alice's Daughter).
Read Bio
is a KC based pianist and musical theatre coach. He recently received his Master's degree in Vocal Coaching and Accompanying from the University of Illinois at Urbana­ Champaign. Recent credits: Titanic, Jump and Jive (MTH), Ordinary Days (Krannert Center for the Performing Arts), Momma Mia! (Central Illinois Stage Co.), and Gianni Schicchi (Eastern Illinois University).
Read Bio
Cellist, Adjunct Professor at William Jewell College performs in
local symphonies, chamber music ensembles. Musicals: Titanic, Camelot, Carousel (Musical Theatre Heritage), Backwards in High Heels (American Heartland Theatre), Between the Lines world premiere, Fun Home, (Kansas City Repertory Theatre), Aida (Kauffman Center) Startlight Theater local and national touring productions include: Jesus Christ Superstar, The King and I starring Lou Diamond Phillips, Rogers and Hammerstein's Cinderella, Disney The Little Mermaid, Disney Beauty and the Beast, Hairspray, West Side Story, Wizard of Oz, Le Miserables, Miss Saigon, Peter Pan starring Cathy Rigby, Little House on the Prairie starring Melissa Gilbert, Additional performances with: Peter Gabriel, Rod Stewart, Michael Buble and Trans Siberian Orchestra, Kansas City Jazz Orchestra. Education: MM in Cello Performance, University of Missouri Kansas City Conservatory of Music and Dance.
Read Bio
has been playing the double bass for over 20 years. As a performer, she regularly performs with the Symphony of Northwest Arkansas, Tulsa Symphony Orchestra, and the KC Symphony. She is also a founding member of Mind on Fire, a contemporary music collective in Baltimore, and loves to perform all types of music on the electric and upright bass. As an educator, Kassie maintains an active private teaching studio, working with students of all ages and levels. She received her Bachelor of Music degree from the Manhattan School of Music and a Master of Music from the Peabody Conservatory, both with a focus on double bass performance. Outside of music, you can find Kassie baking, enjoying time with her family, or serving the community at Kansas City Cannabis.
Read Bio
is a one of the most sought after violists and music educators in the KC area. Alyssa co­ founded Soundwave Academy, a music academy focusing on holistic music learning and is currently the Adjunct Professor of High Strings at William Jewell College. She has a Bachelor's in Music Education from UMKC, and a Master of Music in Viola Performance from the Peabody Conservatory. Alyssa works with several regional organizations including the KC Symphony, Tulsa Symphony, and is a member of Rewound String Trio and Fountain City String Quartet. She serves onthe Board of Directors as Education Chair for the Kansas City JazzOrchestra. Alyssa performed in Titanic at MTH in 2022.
Brett Jackson
Clarinet / Flute / Pennywhistle
Read Bio
Since arriving in 2009, Brett Jackson has been establishing himself as a first-call woodwind artist in the flourishing Kansas City music scene. In addition to performances at Starlight Theater, Kansas City Music Hall, Music Theater Heritage, Kansas City Repertory Theater and New Theater Restaurant, he also performs with The Freedom Affair, Chris Hazelton's Boogaloo 7, Marcus Lewis Big Band, The Project H, Vine Street Rumble and The Kansas City Jazz Orchestra. Jackson teaches woodwinds at Kansas City Kansas Community College, Harmony Project KC and Village Music Academy. More information on Brett can be found at www.brettjacksonmusic.com